LOOKING FOR A HASSLE FREE EXPERIENCE?
We provide tools to stay in direct contact with each other throughout the entire process. We will always call you back!
NOW THERE'S MORE REASONS TO CHOOSE KRC-SQUARED:
20 Years of Experience
Knowledge in all Aspects of Home Construction and Remodel
Estimates within 48 hours
We are the Highest and Most Reviewed Home Remodeler in Topeka
"I have been incredibly happy with KRC Squared's work. From start to finish, he was on time, did what he said and did it with high quality. Keith did a kitchen for us and we were able to continue with our daily, busy life, while he worked. What I was impressed with most was each day he was done he cleaned up his mess. I would highly recommend Keith to all of my friends for any project." – Katie Petesch

"Keith was so easy to work with on our project. He listens to what you want and the concerns that you have, but also has creative ideas of his own. Above all, he is honest, professional and can be trusted in your home. We actually left him the keys while we went on a cruise. I highly recommend Keith to do your next home project." – Susan Ryan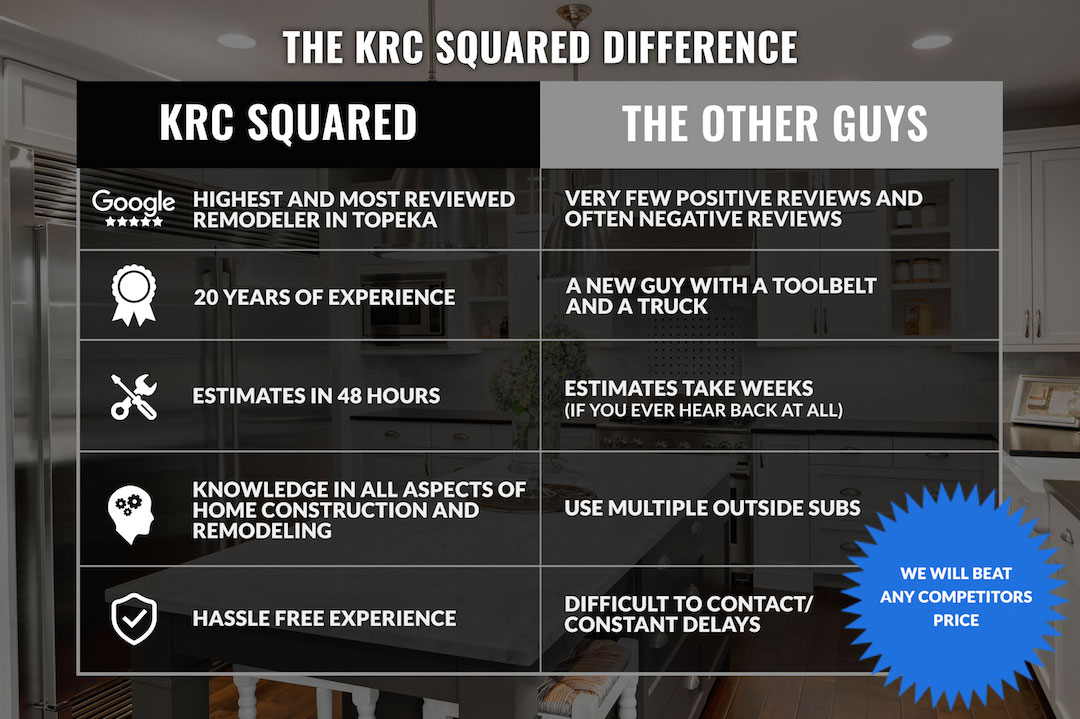 KRC Squared strives to use only quality building products in the remodel or construction of your home. Our numerous material suppliers are also trusted partners and are held to the same level of quality. With so many different choices available and new products on the market, it can be overwhelming to the homeowner to pick the best product for your home. KRC Squared spends time and resources researching the best products and materials on the market to ensure the best quality of products are used in the building process. Some examples of this type of research include a warranty of the product, availability of future service of the product, safety features, reliability, life span, ease of use and overall appearance. One example of a product we use on new construction, that our competition may not use, are improved truss anchors, instead of toe nailing and standard hurricane straps used to secure the trusses to the framework. Making a stronger and faster connection this product is designed to resist 96% of all global high wind events. These connectors are proven to exceed code compliance and help provide peace of mind in the event of a tornado or other adverse weather conditions.
If you have been looking for a quality builder that you can trust to work with, Keith invites you to call and schedule an appointment to begin planning today. More time spent planning is beneficial to ensure all the details are met and materials are available at the start of the project. Keith looks forward to meeting you and having the chance to work with you on any upcoming projects you may have. The home you live in may be your most valuable asset. You deserve to have a builder you can rely on to construct, remodel or make repairs to it. Keith is known to go above and beyond, often adding personal touches to make your project stand out above the ordinary.